Professional Silverfish Control In Lower Mainland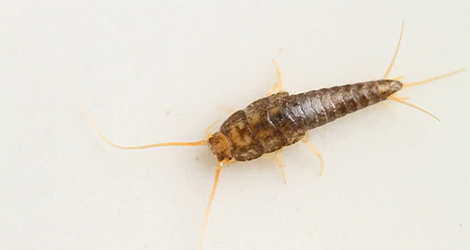 Silverfish aren't known to bite or attack humans and pets or spread diseases, but they do target valuables such as photo albums, paper documents, receipts, and treasured books for feeding purposes. Their presence can be uncomfortable for those who have a low tolerance for pest activity in their home, which is when professional pest control becomes a necessity. ASM Pest Control is a professional silverfish control in Lower Mainland.
White to gray or bluish-silver, silverfish is a teardrop-shaped insect with a size of up to 12-19 mm and has three long bristles on the rear. They thrive in moisture and are known to survive for months without having food and water. Since these pests are able to scale walls and ceilings, this makes them one of the toughest pests to control.
Silverfish are around 1/2 inch long and have a silvery tint all over their upper surface. They have long, thin bodies. Silverfish have a large head that gradually narrows toward the back. Silverfish are quite safe, but they are horrendously awful and frightening. It doesn't help that they prefer to cluster in chilly, damp, and dark parts of your home, such as under the bathroom sink and in the basement. If you've recently discovered one of these wingless insects or are struggling with a silverfish infestation. Silverfish, fortunately, do not bite and do not transfer disease. They prefer to congregate in your house and feed on starchy materials such as glue, newspaper, storage boxes, book bindings, and dry commodities. Silverfish insects have flattened, long, thin, brown-silver bodies that are wide in the front and progressively taper toward the back. Silverfish may be found across the Lower Mainland.
Silverfish prefer wet environments, so lowering the humidity levels in your home is a sure-fire approach to keep them away. Because silverfish are seeking a precise set of conditions, you may take the required steps to make your house unwelcoming to these pests. ASM Pest Control in the Lower Mainland will always come to your aid since the best method to avoid these nuisance pests is to keep them out of your house in the first place.
How We Control Them?
Silverfish infestations require professional treatment. At ASM Pest Control, our team of pest control experts in the Lower Mainland has years of experience in dealing with pest problems. After assessing your home and the severity of the infestation, we will determine the most effective extermination method for the pest problem.
From control to extermination and prevention, we do everything to make your property pest-free. At the first sign of a silverfish infestation, contact us right away, and we'll schedule a home inspection to start with the control service.
Why Choose Us?
Silverfish are relatively innocuous indoor insects that seldom cause substantial damage to dwellings. When they become too many, they may consume precious possessions and overall be a nuisance. Many people's skins can create allergens that, when mixed with other indoor allergens such as dust and other tiny debris, cause disruptive allergy symptoms such as itching, mucous building, and coughing. However, getting rid of silverfish is not difficult. Our objective is to deliver quick and easy service while giving you confidence that you are in excellent hands. Because we realize how stressful and burdensome insect infestations may be, we endeavour to deliver same-day or next-day treatment. Contact us as soon as you see signs of a silverfish infestation, and we'll schedule a house inspection to begin the control treatment.
Being a local pest control company, our goal is to provide fast and convenient service with the peace of mind that you are in good hands. We understand that pest problems can be stressful and overwhelming, so we strive to provide same day or next day service. Some reasons to choose us are:
Family Owned and Operated
Safe & Eco-friendly Treatments
Fast and Efficient Service
Guaranteed Price with No Hidden Costs
Pest Control in Lower Mainland Service Areas
ASM Pest Control is a notable pest control firm in the Lower Mainland. We are proud to serve residential, commercial, and industrial clients with a wide range of ant, rat, cockroach, and bed bug control services, among others. We are a team of qualified and insured pest control experts. For many years, we have been resolving pest concerns and have developed a reputation for providing nothing but premium service. Whether you need to get rid of troublesome insects or want to make your property pest-free, you can count on us to provide a safe, effective, and humane service.
Our pest control technicians offer same-day and next-day service throughout the Lower Mainland. Feel free to contact us for a free quote if you have a pest control issue.
Need help with pest infestations? ASM Pest Control is ready to help!
Same Day Pest Removal For
Residential, Commercial &
Industrial
If you are looking for a licensed pest exterminator in the Lower Mainland, your search ends here. With years of experience in integrated pest management, we are proudly serving the residential, commercial and industrial clients with effective and long-lasting services. We not only eliminate unwanted insects but also follow measures to restrict and prevent their entry in the future. Our approach includes:
Inspection

Control

Prevention
Trapping

Extermination

Follow-up