Ant Control Services In Lower Mainland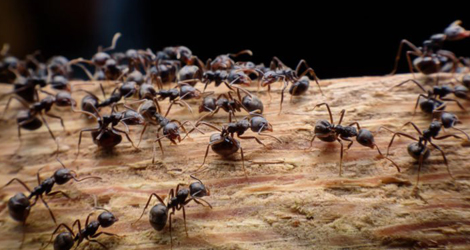 Are you facing a severe ant infestation in your home or yard? Ants are tiny pests that can ruin the health and hygiene of a family. You can generally notice them moving around forming long queues in the kitchen or garden. It is impossible to overestimate ant activities because they devastate wood structures as well as crops.
The invasive nature of these visitors allows them to enter your home without an invitation. Ants spread bacteria that can lead to serious health issues.
At ASM Pest Control, we have a team of licensed service providers for Ant Control in Lower Mainland, that holds years of experience in eliminating the pesky pest population from your home or business premises. No matter whether the pest outbreak on your property is severe or mild, we know how to deal with it.
Ant Species We Remove
The presence of ants can pose a serious threat if they are not discovered in time. Building nests inside homes, hunting for food and causing structural damage to homes are common activities of household ants often move as a marching army When carrying food items back to their nest. As they invade your kitchen to find food, they transfer dirt and other bacteria to your food items, cupboards, countertops, and other kitchen items.
Just like many other pests, ants are also found globally. They are more attracted to a property that is rich in food sources and water. There are almost 12000 species of ants that are responsible for infesting man-made structures.
At ASM Pest Control, we utilize chemical-free products and follow eco-friendly methods to provide humane ant extermination in the lower mainland. Some common species we remove include:
Acrobat Ants
Argentine Ants
Black House Ants
Carpenter Ants
Citronella Ants
Field Ants
Ghost Ants
Harvester Ants
Pavement Ants
Pharaoh Ants
Red Fire Ants
Thief Ants
Your Trusted Ant Control in Lower Mainland
When an ant infestation is severe, you'll need a company such as ASM Pest Control to eradicate it. A professional ant exterminator will know how to use the latest and most effective treatments to eliminate ants in the Lower Mainland. A nest is usually found outside the home such as in trees, fences, stumps, and even on the ground. The queens of pharaoh ants move constantly, making it difficult to find their nests. When ants infest your home and swarm food or kitchen table remnants, we will be there. Our extermination of ants inside the residence is also guaranteed to be harmless to residents and their animals.
There are numerous techniques that can be done to eliminate ants. Our professional exterminators better understand whether natural or chemical solutions would solve your pest control issues.
With years of experience in the industry, we have earned an industry reputation of being a leading service provider of ant removal and prevention in the Lower Mainland. Regardless of if you live in an apartment or a bungalow, we are here to eradicate these tiny pests away from your premises.
Once you call us for service, our exterminators will reach your place and conduct an inspection. After identifying the ant species, we'll formulate an effective control treatment that ensures long-lasting results. You can rely on us for:
Ant Inspection
Ant Control
Ant Removal
Ant Trapping
Ant Proofing
Ant Extermination
Ant Prevention
Follow-up Visits
We are committed to delivering customer satisfied services with the same day or emergency response. Request a free quote to get started.
Pest Control in Lower Mainland Service Areas
ASM Pest Control is a notable pest control firm in the Lower Mainland. We are proud to serve residential, commercial, and industrial clients with a wide range of ant, rat, cockroach, and bed bug control services, among others. We are a team of qualified and insured pest control experts. For many years, we have been resolving pest concerns and have developed a reputation for providing nothing but premium service. Whether you need to get rid of troublesome insects or want to make your property pest-free, you can count on us to provide a safe, effective, and humane service.
Our pest control technicians offer same-day and next-day service throughout the Lower Mainland. Feel free to contact us for a free quote if you have a pest control issue.
Need help with pest infestations? ASM Pest Control is ready to help!
Same Day Pest Removal For
Residential, Commercial &
Industrial
If you are looking for a licensed pest exterminator in the Lower Mainland, your search ends here. With years of experience in integrated pest management, we are proudly serving the residential, commercial and industrial clients with effective and long-lasting services. We not only eliminate unwanted insects but also follow measures to restrict and prevent their entry in the future. Our approach includes:
Inspection

Control

Prevention
Trapping

Extermination

Follow-up