Pest Control In Surrey
Wondering about Pest Control in Surrey? Don't worry! You have landed on the correct page. At ASM Pest Control, we provide the most reliable and effective Pest Control services in Surrey. We assist in the eradication of pests that infest your home and make life difficult for those who live or work there. We have solutions for all types of pests and insects to help you enjoy a pest-free environment.
Pests and insects typically hide in the site's cracks and crevices.. However, you cannot escape our trained, skilled, and experienced pest control professionals in Surrey. We deal with pests in residential, industrial, and commercial areas. To make our tools and equipment more efficient, we use environmentally friendly products.
We offer various services to control Ants, Mice, Cockroaches, and Bed Bugs, among others. We strive to provide our customers with a healthy and happy home or workplace and provide the best Pest Control in Surrey.
Surrey is one of the fastest-growing places in British Columbia. However, there are more pest infestations to be expected as a result of increased urbanization and diminishing natural habitats. Pest infestations can be a major nuisance, so you need to take the necessary precautions to protect your home or business from any possible diseases.
We know how important it is to protect you and your family from pest problems. ASM Pest Control's dedicated team goes above and beyond for our customers and provides the best pest control surrey.
What Do We Do At ASM Pest Control?
Our expert professionals exterminate domestic pests that destroy your property and belongings and cause a threat to your life. We are highly professional and we proficient in providing the best rodent control, bed bug control, cockroach control, ant control, spider control, bee & wasp control, mole & vole control services. We provide the most effective residential and non-residential pest removal services by using technically advanced tools and machinery. Our ASM Pest Control team consists of licensed, highly experienced, skilled and expert at treating infestations. We are always on toes, so all you have to do is just give us a call and we'll be there at your doorstep!
Why Choose Us?
ASM Pest Control offers pest control services to Surrey residents that are fast, efficient, safe, and environmentally friendly. Let our pest control experts handle these pests and make a difference in your home! We can deal with any pest, whether in a residential, commercial, industrial property.
Many Surrey Hotel owners and property managers often need the assistance of ASM pest management professionals to keep their properties pest-free. Surrey's growing rat problem requires rodent control and management of malls, food-service establishments, and industrial buildings. In addition, real estate agents may request a pest inspection before selling a house. Ants, wasps may also infest schools and other institutions.
Surrey Pest Control
Choosing from the many available in your area can be quite a daunting task if you are not acquainted with all the necessary information that should be taken into account when looking for one. ASM Pest Control is the best pest control company located in Surrey and has a stellar reputation for being a great company to deal with that is delivering nothing but the best. With a team of licensed and insured Pest Control experts, we are proudly serving Residential, Commercial, and Industrial Clients with a wide range of ant, rat, cockroach, and bed bug control services among many others. We have been resolving pest issues for the past many years. Whether you need to get rid of pesky insects or are planning to make your property pest-free, rely on us for a safe, effective, and humane service. Declare war on pests by contacting ASM Pest Control today!
Benefits Of Choosing ASM Pest Control
Years of Experience

Worked on Wide Range of Products

Use of Non-toxic and Green products

Same Day service available

Trained and Skilled Pest Control Specialists

Fair and Competitive Pricing

Government Licensed, Certified, Work Safe covered, bonded and insured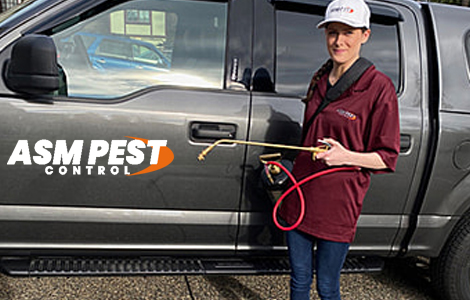 Need help with pest infestations? ASM Pest Control is ready to help!
How ASM Pest Control In
Surrey Helps You?
As we aim to provide a healthy home and working environment, we protect your environment from pests using techniques as desired without any hassle. Over the years, we built up a team of the best pest control or removal specialists in Surrey. We are all licensed, insured, and trained to be ready for any client requirements. As each client is unique, they require a customized solution for their premises. Thus, with our excellent quality of work, we aim for customer satisfaction.
For Best Pest Control  services in Lower mainland, get in touch today.