Pest Control In Vancouver
As with any major metropolis, Vancouver has a less frequent crisis that is hardly spoken about. The ugly city dwellers that drive people to recoil in fright, crawl in their seats, and bolt for the exits can be found in and around any structure or business.  Those pesky city dwellers are the rats and mice, mites and bedbugs, mole and vole, who no one ever seems to want around. When Mother Nature's little companions migrate into the neighborhood, they create a mess, ruin buildings, and can even spread disease. Thankfully, there is ASM Pest Control in Vancouver which can be contacted when these problems arise.
It's no surprise that numerous species of creatures have made their way into Vancouver, given the abundance of resources available for both survival and comfort. Whether they are carpet beetle or moths, fleas or silverfish taking up residence in the attic or crawlspace, mites or carpenter ants destroying the structure itself, bees and wasps causing general discomfort, or rats or mice wreaking havoc in the walls, unwanted critters will inevitably find their way into your home. At such times your best bet is Pest Control Services in Vancouver.
That's why there's ASM Pest Control. We are the go-to Pest Control Service for Vancouver residents who wish to rid their homes of the many creatures and insects that are a prevalent nuisance around the city.
What We Do At ASM Pest Control?
Vancouver being a port city and having a close connection to nature, as residents you might face a host of pest infestations at home or at work. And if not taken notice of, it would take no time for your property and health to be affected by pests. Vancouver's close relationship with nature has led to growth of pests like insects, rats and mice, that's why you need the best pest control service in Vancouver. At ASM Pest Control, we have the equipment and strategies to get rid of pests quickly and easily. We have a qualified and insured team since we strive for customer satisfaction. Our skilled workers are dedicated to giving the best pest results every time. We are very detail-oriented, thus we check every possible spot where pests can infiltrate. As a result, we conduct an examination followed by extermination of pests.
Whether it's a residential, commercial or industrial service, ASM Pest Control in Lower Mainland offers a solution for all types of pest control. We offer a wide range of Ant, Rat, Cockroach, and Bed Bug control services. Our Pest control Professionals start with real estate analysis and then find solutions for a comfortable environment without pests.
Vancouver Pest Control
ASM Pest Control is the leading pest control company in Lower Mainland. We serve residential, commercial, and industrial customers with a wide range of Ant Control, Rat and Mice Control, Cockroach control, and Bed Bug control services with a team of licensed and insured pest control experts. Our mission is to provide a Long-Lasting, effective service to prevent annoying pests from re-entering your property as your local Pest control company in Lower Mainland. We offer Pest Control Services in the following locations, with our Pest Expert Team at your Door Step, where we serve our customers 24*7.
Benefits Of Choosing ASM Pest Control
Vast years of experience in pest control

Use of ecological (green products)

Same day service available

Team of trained, certified, and insured professionals

Fair and competitive pricing

Government Licensed, Certified, WorkSafe covered, bonded and insured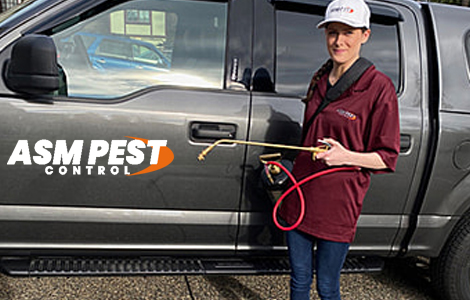 Need help with pest infestations? ASM Pest Control is ready to help!
How Can We Help You?
Here, at ASM Pest Control, we have the tools and techniques to get rid of pests without any kind of hassle. As we aim for customer satisfaction, we have a team that is licensed and insured in terms of Pest Control in Vancouver. The professionals are committed to providing the most exceptional pest control services each time. We are very detail-oriented and thus, we make sure to check every possible area where pests can invade. Therefore, we go through an inspection followed by extermination.
For Best Pest Control  services in Lower mainland, get in touch today.