Bee And Wasp Control In Lower Mainland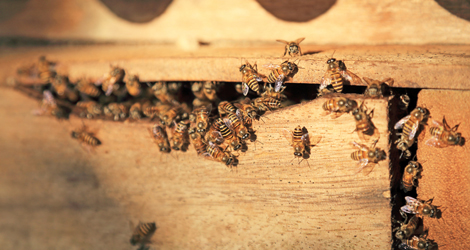 If you are dealing with a bee and wasp infestation and looking for an effective Bee and Wasp Control in Lower Mainland, you have landed at the right place. At ASM Pest Control, we provide safe and reliable wasp removal service to residential, commercial, and industrial clients.
There are several problems concerning stinging insects. Stinging pests frequently make their nests near persons and families, which increases the likelihood of people being stung. A stinging insect nest erected adjacent to man-made structures increases the probability of wasps and bees infesting premises indoors, increasing the risk even more. Bees, wasps, and other stinging insects are requisite for the environment to work effectively, but that does not mean you necessarily want them near your house! Wasps typically sting in order to defend themselves. If you approach a wasp, it will see you as a danger and will most likely try to sting you. They also use their stingers and venom to immobilize prey so that they can bring it back to their nest or swallow the bug they are eating. If anyone in your household is allergic to bee and wasp stings, you must use expert pest control in the Lower Mainland to keep them away from you and your loved ones.
We know that commonly available yellow jackets and hornet species can sting humans, especially when they are irritated. This is why they are not easy to control, and their infestation can be handled by a professional bee and wasp exterminators in the lower mainland. We are trained, experienced, and equipped to control and remove a pest population.
Yellow Jackets: are commonly known species of stinging insects.
Hornets: they attack in defense when their hives are disturbed.
Carpenter Bees: are around an inch and usually create hidden nests.
Bumble Bees: they have pale yellow and black hairs on their bodies.
Paper Wasps: they build their nest in an inverted umbrella shape.
Mud Dauber Wasps: are mostly found in barns, homes or sheds.
How We Work?
At ASM Pest Control, our exterminators will visit your home or office for an inspection to find out which insect species has invaded your property and the severity of the infestation. We utilize eco-friendly and safe products to shoo away these unwanted buzzing insects. Our goal is to make your property free from bees and wasps. Once they are removed, our bee control experts in the lower mainland will continue with a follow-up service to prevent a future infestation.
Yes, attacking or removing a wasp's nest may be quite harmful. This is especially true for people who are allergic to bee and wasp stings. Wasps are especially deadly in these situations because they may sting repeatedly and repeatedly. A single individual can be stung by hundreds of stings all over their body. Professionals have the proper equipment to protect themselves as well as the right instruments to destroy a nest and successfully get rid of pests so that they do not swarm or risk themselves or your family.
Of course, if you want to get rid of wasps while putting yourself and your family in lower danger, call your local ASM Pest Control in the Lower Mainland. We can locate their nests and carefully destroy the wasp's nest, allowing you to get rid of the current infestation while also providing guidance on how to prevent them from returning.
Why Choose Us?
ASM Pest Control in the Lower Mainland is a team of Bee and Wasp Control in Lower Mainland experts with years of experience in Bees & Wasps eradication and extermination in the Lower Mainland. We know how to get rid of these troublesome insects that like to hide in the hard-to-reach nooks of your home and outdoors. Our exterminators employ high-quality Bee & Wasp repellents and removal tactics to ensure that they do not return to your house. We use eco-friendly ways to get rid of these pesky insects without harming your goods, family, or pets. Call our pest control experts immediately to get rid of bees and wasps in your home.
Trained Exterminators
Eco-Friendly Products
Long-Term Solution
Affordable Services
Pest Control in Lower Mainland Service Areas
ASM Pest Control is a notable pest control firm in the Lower Mainland. We are proud to serve residential, commercial, and industrial clients with a wide range of ant, rat, cockroach, and bed bug control services, among others. We are a team of qualified and insured pest control experts. For many years, we have been resolving pest concerns and have developed a reputation for providing nothing but premium service. Whether you need to get rid of troublesome insects or want to make your property pest-free, you can count on us to provide a safe, effective, and humane service.
Our pest control technicians offer same-day and next-day service throughout the Lower Mainland. Feel free to contact us for a free quote if you have a pest control issue.
Need help with pest infestations? ASM Pest Control is ready to help!
Same Day Pest Removal For
Residential, Commercial &
Industrial
If you are looking for a licensed pest exterminator in the Lower Mainland, your search ends here. With years of experience in integrated pest management, we are proudly serving the residential, commercial and industrial clients with effective and long-lasting services. We not only eliminate unwanted insects but also follow measures to restrict and prevent their entry in the future. Our approach includes:
Inspection

Control

Prevention
Trapping

Extermination

Follow-up